Watering Guidelines For Plants
Enchanted Gardens' Texas Certified Nursery Professionals are here to make understanding local watering guidelines easy. Browse the table below to learn about watering guidelines by season or temperature, or read our recommended watering guidelines for specific types of plants.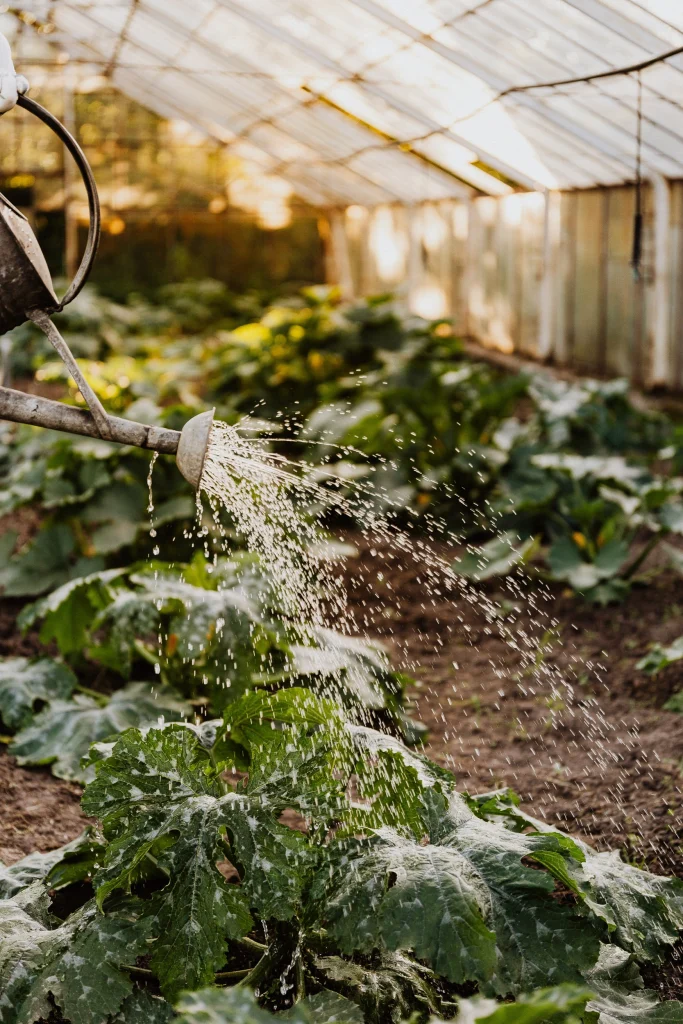 Houston Watering Guidelines
The watering information provided is a set of general guidelines.
| | | |
| --- | --- | --- |
| | | Late Winter/Early Spring – Rainfall is usually adequate. Water if there is no rainfall for four weeks. |
| | | Water only once per week in the spring, if less than one inch of rainfall occurs. |
| | | During the summer, water each section heavily at least twice a week if less than one inch of rainfall. |
| | | Early Fall is Brown Patch Season and excess water triggers this disease. During September water only once per week if no rainfall and every two weeks in October if no rain. |
| | | In late fall/early winter, rainfall is usually adequate. Water if no rainfall for four weeks |
Actual water needs may vary based on temperatures, soil types, the needs of individual plants, annual rainfall, available irrigation and many other factors.
If you are concerned that your plant isn't receiving the proper amount of water the best way to tell whether it is too wet or dry is to do some investigating: touch the soil around it, dig a small hole to see how deeply the soil is saturated, and check sprinkler systems to make sure they are working properly.
Also remember that new plants will need to be watered more frequently and will need supplemental water aside from sprinkler irrigation as they grow and try to establish new roots.
Watering Guidelines by Temperature
The watering information provided is a set of general guidelines.
Watering Newly Planted Trees and Shrubs
Adequate water is essential when planting. The root zone should be slow-soaked 2 times per week when the tree is first planted. The amount of water will depend on the size of your tree or shrub. If you plant a 15 gallon tree it will need an additional 15 gallons of water 2 times a week from a garden hose. The same rule applies based on the containers size:
3 gallon containers will require 3 gallons of additional water from a garden hose 2 times a week.

5 gallon containers will require 5 gallons of additional water from a garden hose 2 times a week.

And so on relative to the size of your container.
Remember this is supplemental to your irrigation system, and will depend on rain, temperature, and the needs of your plant.
Watering Annuals, Perennials and Groundcover
As a rule your irrigation system will water these plants sufficiently, but it is always a good idea, especially during periods of drought or extreme heat, to monitor the moisture levels of the soil around your plants.
Watering Succulents & Drought-loving Plants
Succulents and drought-tolerant plants still require water to get established, however they don't want to sit in excess moisture and prefer a planting medium that drains well. Once established they'll require much less frequent watering.
Start by watering your new houseplant once a week with an appropriate amount of water to dampen the soil. Let your houseplant dry out between watering. Note: most houseplants are killed by too much water.
Most vegetables will appreciate frequent and consistent water, but it's important to keep in mind that some veggies have fragile leaves and don't hold up well to being watered from above. Care should be taken with these plants to water underneath the foliage and avoid damaging their leaves. Careful monitoring of soil moisture is also important for vegetables as soil that is too moist can often attract pests.
Watering needs for herbs can vary depending on the particular plant, but most of them will appreciate a well draining soil. 
Get Free Weekly Watering Advice